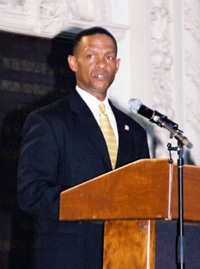 Erroll Southers currently serves as chief of intelligence and counter-terrorism for the Los Angeles World Airports Police Department.
He is also Associate Director for educational programs at the U.S. homeland security Center for Risk and Economic Analysis of Terrorism Events (CREATE) at the University of Southern California (USC) and an Adjunct Professor of Terrorism and Public Policy.

The former deputy director of the California Office of Homeland Security, appointed by Governor Schwarzenegger, he is responsible for the oversight of counterterrorism policy and national pilot programs.
He is a former FBI Special Agent assigned to matters of counterterrorism, foreign counterintelligence, and a member of the Bureau's SWAT Team.

He is a consultant to numerous international firms and regularly featured in the media as an expert on matters of counter-terrorism and infrastructure protection.

Erroll Southers is a Certified Institutional Protection manager and certified in homeland security by the American College of Forensic Examiners Institute.
He earned his BA degree at Brown University and his Master of Public Administration at USC
See the interview with Erroll Southers divided into nine short videos.